Real-Time Analytics Using Apache Kafka and Apache Flink
Publish date: Feb 19, 2021 5:51:00 AM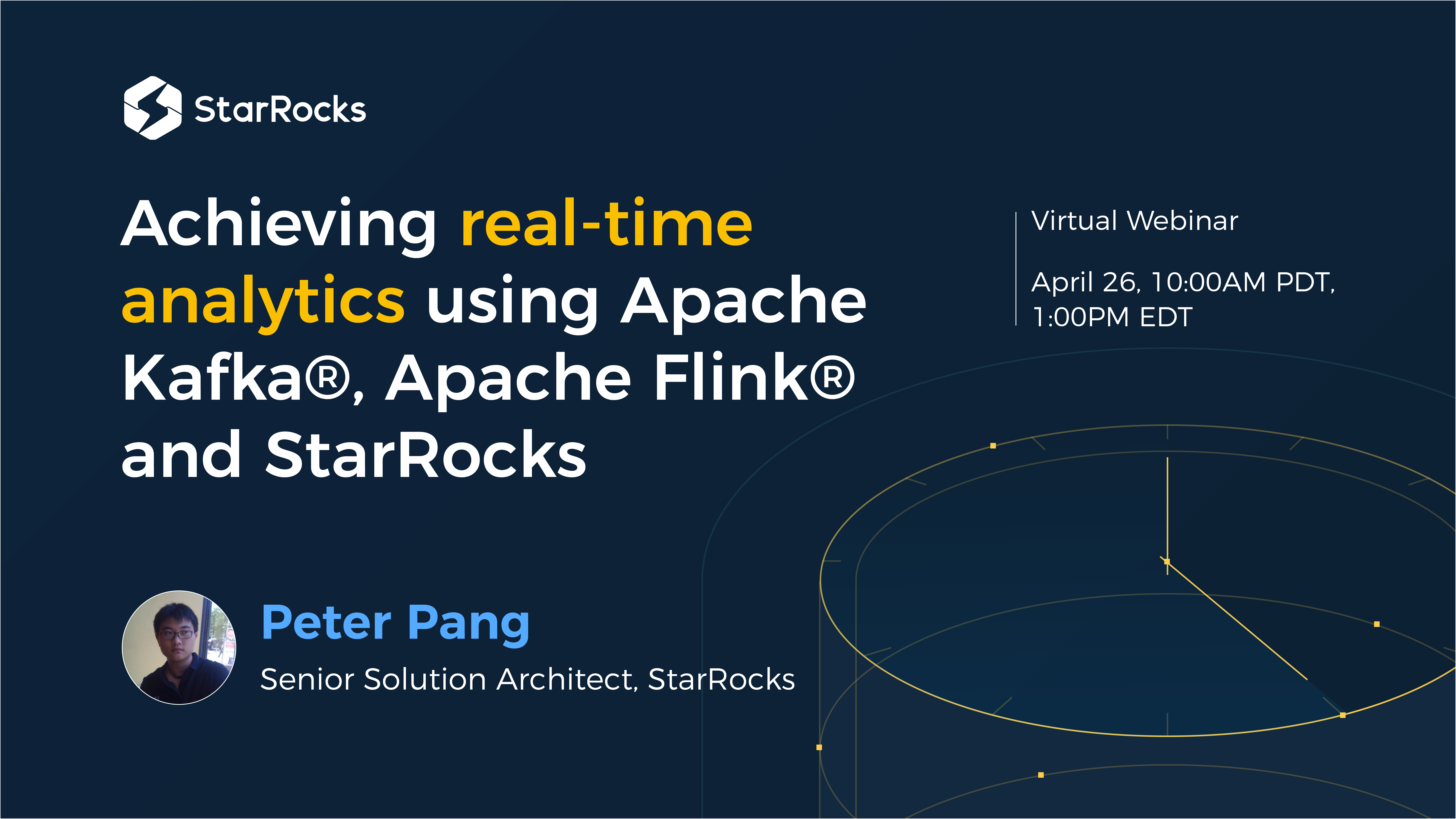 Details
Real-time analytics is fundamental to businesses whose data is constantly added and updated, such as trust analysis and waybill analysis. Although technologies that enable real-time data keep evolving, a number of daunting issues are yet to resolve: how to ingest streaming data in real-time, how to complete complex queries in the earliest time possible, how to analyze data from OLTP systems, and how to update data in real-time.
StarRocks has the pill for all these questions! In this webinar, Peter Pang, senior solution architect at StarRocks, will navigate you through some use cases about real-time analytics that you definitely want to know and show you a demo.
Topics:
What requirements should OLAP systems meet to achieve real-time analytics?
Demo: StarRocks+ Apache Kafka®, StarRocks+ Apache Flink®+MySQL
Use cases
Q & A
Meet the Speaker
Peter Pang, Senior Solution Architect with years of experience in distributed systems and big data.
About StarRocks
StarRocks is a free, open OLAP database enabling blazing-fast analytics.
StarRocks provides exceptional performance in various data analytics scenarios, including multi-dimensional screening and analysis, real-time data analytics, and ad hoc analytics. StarRocks also supports thousands of concurrent users. It is widely used in business intelligence, real-time data warehousing, user profiling, dashboards, order analysis, operations, monitoring analysis, anti-fraud, and risk management. More than 100 large and medium-sized enterprises across various industries have deployed StarRocks in their online production environments, including Airbnb, JD.com, Tencent, and Trip.com. Thousands of StarRocks servers are running stably in customers' production environments.
---
Apache®, Apache Flink®, Apache Kafka®, and their logos are either registered trademarks or trademarks of the Apache Software Foundation in the United States and/or other countries.