Real-Time Analytics at Airbnb with StarRocks
Publish date: Feb 13, 2021 5:25:00 AM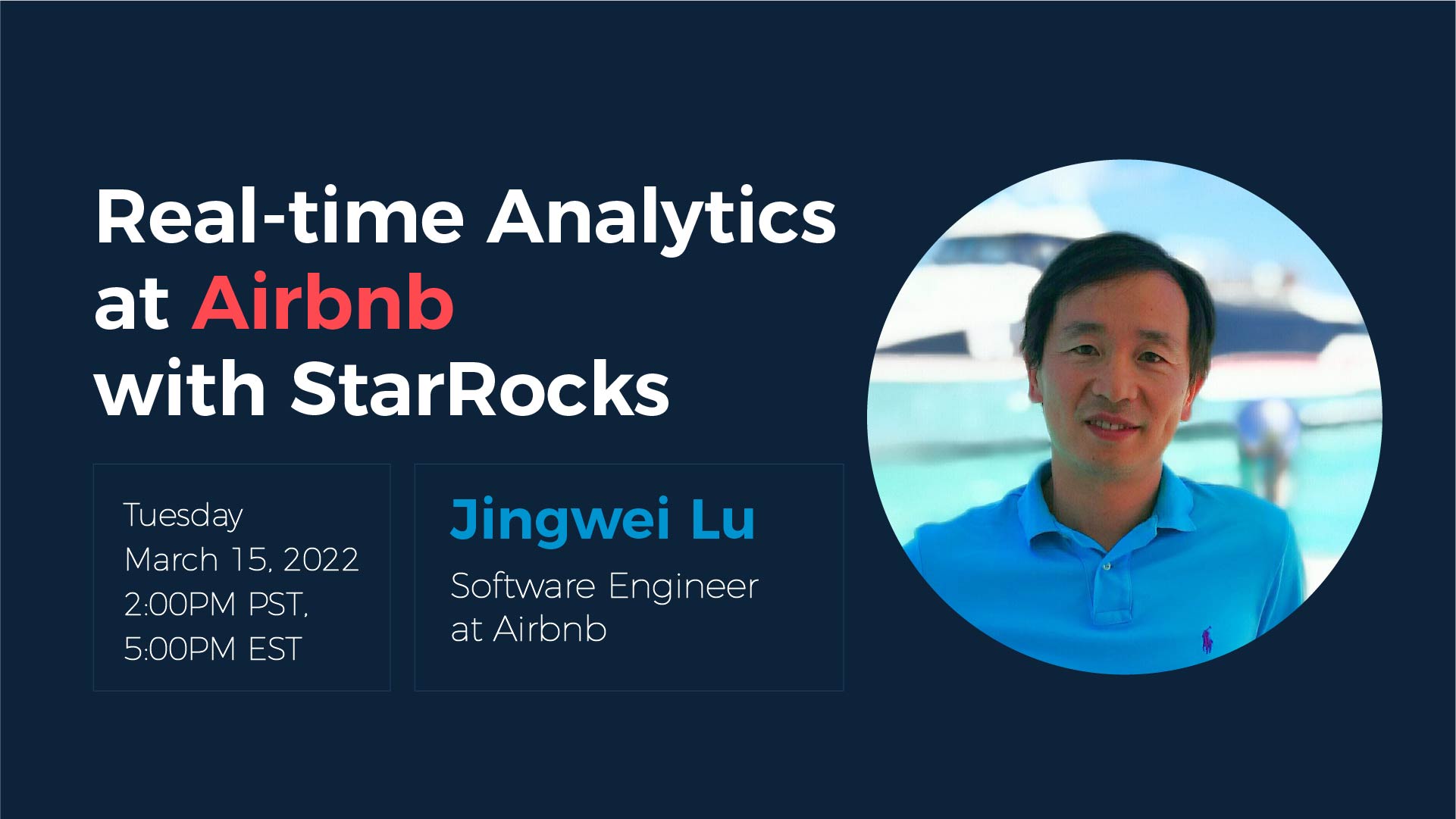 Wanna make data analytics REAL-TIME? Check this
webinar video
to see how #StarRocks helps #Airbnb achieve this
Details
We live in a data era where every enterprise is seeking a real-time analytics solution to power data-driven decision-making. Airbnb is one of the US enterprises that leverage StarRocks to gain real-time data for trust analysis, Tableau BI report, and metrics management. StarRocks' real-time data update and second-level query latency frees data and O&M engineers at Airbnb from tedious work and offers efficient data service for data scientists and service personnel alike.
In this webinar, Jingwei Lu, software engineer at Airbnb will talk you through the following topics:
What requirements should OLAP systems meet to achieve real-time analysis?
How does Airbnb leverage StarRocks in use cases like real-time trust analysis, Tableau BI report, and metrics management?
Why StarRocks solve our problems in our scenarios?
Q & A
Meet the Speaker
Jingwei Lu, Software Engineer at Airbnb
Jingwei is an experienced software engineer with a demonstrated history of working in the database and big data industries. He held positions at Microsoft SQL Server, Facebook, Alibaba, and Airbnb. He specializes in high-performance SQL execution engine design. Joined Airbnb Data Infra in 2015, he currently focuses on real-time stream computation and OLAP engine.
About StarRocks
StarRocks is a free, open OLAP database enabling blazing-fast analytics.
StarRocks provides exceptional performance in various data analytics scenarios, including multi-dimensional screening and analysis, real-time data analytics, and ad hoc analytics. StarRocks also supports thousands of concurrent users. It is widely used in business intelligence, real-time data warehousing, user profiling, dashboards, order analysis, operations, monitoring analysis, anti-fraud, and risk management. More than 100 large and medium-sized enterprises across various industries have deployed StarRocks in their online production environments, including Airbnb, JD.com, Tencent, and Trip.com. Thousands of StarRocks servers are running stably in customers' production environments.